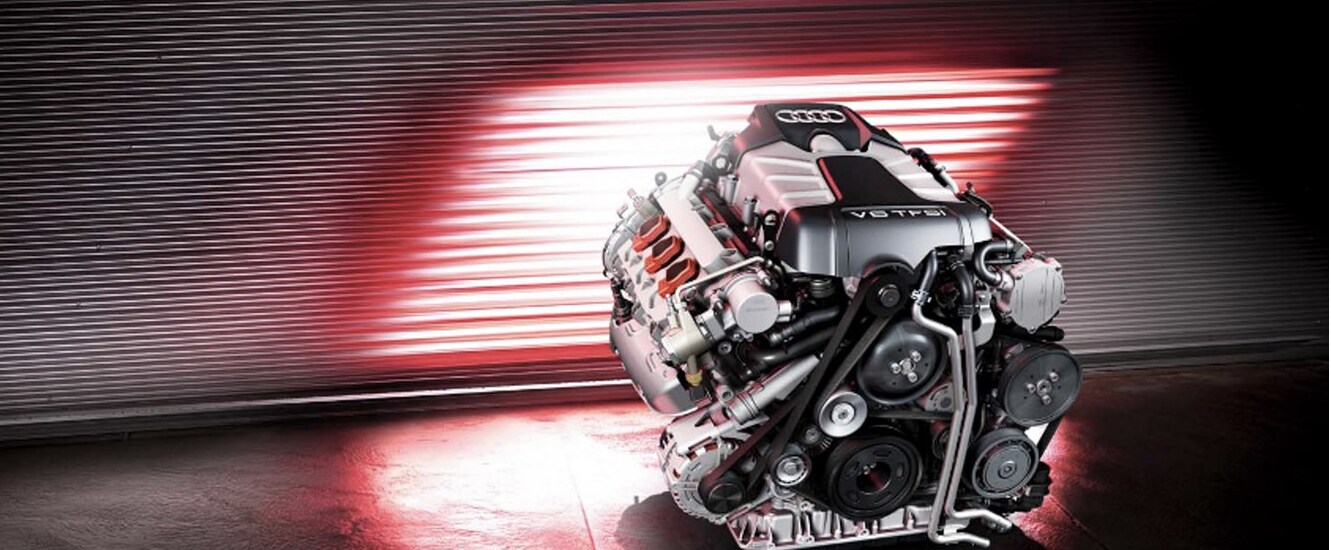 Audi A3
with its 2.0L turbocharged/TFSI® I4 engine, or the large and luxurious
Audi Q7
, which is available with a 3.0L supercharged/TFSI® V6 engine. The displacement and number of cylinders are easy enough to determine, but what is TFSI®? What does it do, and why do you want it? Our Audi experts have laid out the facts for you below. If you'd prefer to speak to a product specialist directly, call
(888) 698-1441.
---
What is Audi TFSI®?
Audi TFSI® stands for turbo fuel stratified injection. But what does that mean? Audi TFSI® combines direct injection with turbocharging and supercharging. In fact, Audi was the first auto manufacturer to combine these two methods, back in 2004. 
 Direct injection is when fuel is injected directly into the engine's combustion chamber, rather than coming in through an intake manifold after being pre-mixed with oxygen. This way the car's computer can inject only as much fuel as needed and only when needed, which makes Audi TFSI® engines up to 15-percent more efficient.
 Turbocharging an engine means compressing the air coming into an engine so that more air can fit into each cylinder. Being able to burn more air and fuel means the engine can generate more power without increasing its size and weight. Turbocharging an engine can
improve horsepower by upwards of 40-percent
. The difference between turbochargers and superchargers is that turbochargers are powered by a turbine connected to the exhaust system, and superchargers are powered by a belt connected to the engine.
---
Which Audi Models Have Audi TFSI®?
All modern Audi engines use FSI®, also known as direct injection. Nearly every model uses TFSI®, including all your favorite sedans, coupes, and crossovers. You can rest assured that no matter which new Audi model from our inventory you select, you are receiving the best-engineered powertrain possible. In fact, we encourage you to visit Audi Hoffman Estates near Chicago, IL to take any new Audi model for a test drive. You'll see for yourself that the efficiency and power of an Audi vehicle is undisputable.
---
Schedule A Test Drive near Chicago, IL
test drive form
or by calling
(888) 698-1441.
You can select the new Audi model you are interested in from our
new vehicle inventory