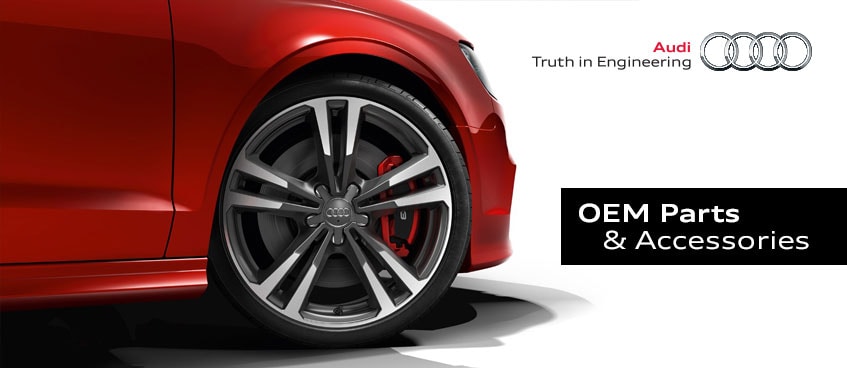 Where can Audi owners in the Hoffman Estates, IL area get genuine replacement auto parts for their sedan, crossover, or SUV? The parts center at Audi of Hoffman Estates has the ability to order replacement parts and badges directly from the factory in Germany. The dedicated auto parts center at our Audi dealership maintains a comprehensive inventory of high quality, genuine OEM parts.
Don't settle for the generic parts that a chain store has or drive around with a missing badge on the rear of your Audi. Drivers can get parts that are identical to the components installed on Audi vehicles when they were built at the factory.
Reach out to our team
to get the replacement auto parts and badges that your Audi vehicle requires.
Order Replacement Parts Online From Our Audi Parts Center
Your Audi sedan, crossover, or SUV is engineered to run at peak efficiency with the new parts that were installed at the factory. An original part that breaks or wears out needs to be replaced by an identical component in order to maintain the highest levels of performance. The parts center at Audi of Hoffman Estates only stocks genuine parts from the factory in Germany. There isn't another parts center or store in the area capable of getting the OEM Audi parts that our team is able to supply to Audi owners through the factory they were made in.
Get New Auto Parts Installed at Our Audi Parts Center
Not only can Hoffman Estates, IL area customers order parts from our team, but they can also get them installed at our dedicated
Audi service center
. Installing replacement Audi parts on a vehicle can be a huge headache for a DIY mechanic, but it's an easy job for our team of factory-trained technicians working with the latest in automotive repair technology. Get in touch with the team at the Audi service center in Hoffman Estates to
schedule an appointment
or discuss your options with a certified auto technician.
If you're looking to order parts or have replacement parts installed, the parts center at Audi of Hoffman Estates is the preferred choice.
Get in touch
with our team through our website or by phone at (888) 698-1441 to get new auto parts ordered or have your questions answered by an auto parts professional.
Audi Parts for Drivers near Barrington, St. Charles, Naperville, Buffalo Grove & Elmhurst!