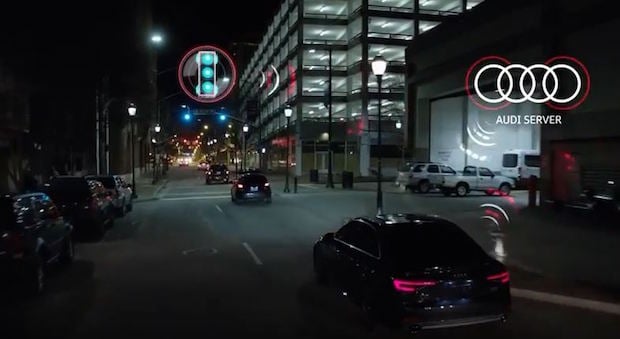 How many times have you wished you knew how long you would be stuck at a long red light, or been honked at for not taking off immediately at the light change? If you drive a new 2017 Audi vehicle, that wish may soon be granted. Audi is implementing the first working Vehicle-to-Infrastructure (V2I) technology to be used in the United States into select 2017 Audi A4, Q7, and allroad® models. This new V2I system will be capable of communicating with connected traffic lights in select U.S. cities and metropolitan areas, and will display a real-time countdown until the light turns green on the vehicle's driver instrument cluster display screen, or on the Head-Up Display if one is equipped.
The 'time-to-green' feature is a huge step forward in the push toward vehicle autonomy, and in the meantime will be a huge relief to drivers anxious about getting where they need to be. Though Audi is the first to make use of this exciting technology, the manufacturer expects V2I to become an integral part of reducing congestion and enhancing mobility as it spreads across brands and cities. For now, the program is currently being tested out in Las Vegas, NV.
For the latest in vehicle connectivity solutions, make your next car or SUV a new Audi.
Browse our inventory
in Hoffman Estates, IL today to see which new Audi model can improve your life.