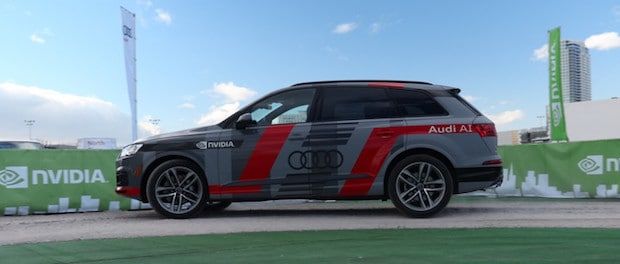 Most people in the industry agree: fully automated driving is an inevitability. It seems the question is less, 'will it happen?' than 'when will it happen?' If Audi has anything to say about it, drivers will enjoy the world's first Level 3 automated vehicle by 2020.
Automated vehicles are currently ranked into several levels of autonomy.
Level 0: No autonomy. The driver has complete control.
Level 1: Equipped with some basic driver assistance technology capable of a single task, such as cruise control.
Level 2: Equipped with advanced driver assistance technology that can perform several tasks at once. For example, dynamic cruise control can accelerate and decelerate to maintain a set following distance. Used only to 'help' a human driver.
Level 3: Capable of performing several driving tasks autonomously and without input from the driver. For example, judging when it is clear to change lanes and then doing so. Requires human intervention in non-typical driving situations.
Level 4: Handles all aspects of driving in a 'safe' environment that the AI has learned. May require human intervention outside that environment.
Level 5: Handles all aspects of driving in all environments. No human intervention required.
Audi has partnered with NVIDIA on numerous projects, including Audi MMI® navigation and the Audi virtual cockpit. Now they've turned their sights on AI neural networks. Their AI-equipped vehicles will be able to learn from the driver and the road how to respond to unpredictable situations like weather, construction, and so on.
'Audi drivers know the pinnacle of performance and technology,' says Scott Keogh, President of Audi of America. 'In our mutual pursuit for safer roads, the partnership between Audi and NVIDIA will expand to deep learning and artificial intelligence to bring higher automation into production more quickly.'
Though Audi drivers in Hoffman Estates will have to wait a few more years before Level 3 autonomous Audis are available, our dealership has several beautiful and dynamic Audi models with Level 2 equipment including lane-keeping, collision mitigation, and blind spot monitoring. Find them in our
new vehicle inventory
, or call us at
(888) 698-1441
to learn more.