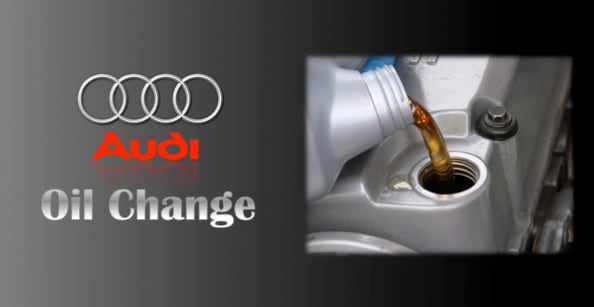 Where Can I get my Oil Changed?
Are you in need of an oil change for your Audi? The service center at Audi of Hoffman Estates is the ideal option for drivers looking to have their oil changed. Changing your vehicles motor oil is perhaps the most important aspect of vehicle maintenance and, Audi vehicles require routine oil changes in order to perform at the highest level. The team at our auto service center is one of the few in the Hoffman Estates, IL area capable of meeting the oil change needs of Audi vehicles.
Why Should I Change My Oil?
Imagine that you buy your new Audi from our Hoffman Estates, IL Audi dealership and never change the oil. What would happen?
Dirt and grime will accumulate in your oil. Your oil filter will catch most of it for a while, but your filter will inevitably become clogged and cease functioning.
The oil itself starts to break down. Chemicals and additives that work to keep your Audi's engine clean will fail due to excessive wear and heat.
 
At this point, the oil becomes thick with particles and there will be a noticeable drop in the performance of your Audi's engine.
 
Over time, wear increases on your engine's key components, and your Audi begins to die a slow, painful death. The engine will eventually seize and cease functioning.
Should I Use Synthetic or Conventional Oil in My Audi?
Most new Audi models do require full synthetic oil, but it's best to consult your Owner's Manual for exact information about maintaining your Audi. Almost every Audi built after 2005 demands full synthetic oil to deliver the impressive performance drivers in the Hoffman Estates, IL area expect from German-engineered models.
Synthetic oil and conventional oil both come from the ground, but that's where the parallels end. Synthetic oil is broken down and re-tailored to provide superior performance and longer life in modern engines. Synthetic oil delivers several advantages that aren't available from conventional oil.
Synthetic oil can go from 9,000 to 10,000 miles between oil changes
Keeps your Audi's engine cleaner
Offers greater protection for your Audi's engine at regular, high, and low temperatures
Protects turbocharger components in your Audi's engine
Do TDI Models Require Different Oil Changes?
Audi TDI models do require specially formulated oil to work with a diesel particulate filter (DPF). A DPF is designed to trap diesel exhaust and removes the typical "black soot" that is associated with diesel models. Audi TDI models equipped with DPF result in cleaner emissions for drivers in the Hoffman Estates, IL area.
Non-approved motor oil can lead to increased oil consumption and premature filter clogging. In fact, most diesel particulate filter issues can be corrected by using Audi-approved motor oil.
Any driver in the Hoffman Estates, IL area looking for an oil change needs to visit the dedicated auto service center at our Audi dealership. Our team is capable of providing the care that your Audi demands with the oil changes it needs. Set up an oil change appointment through our website with our Schedule Service tool or by phone 847-843-9900.