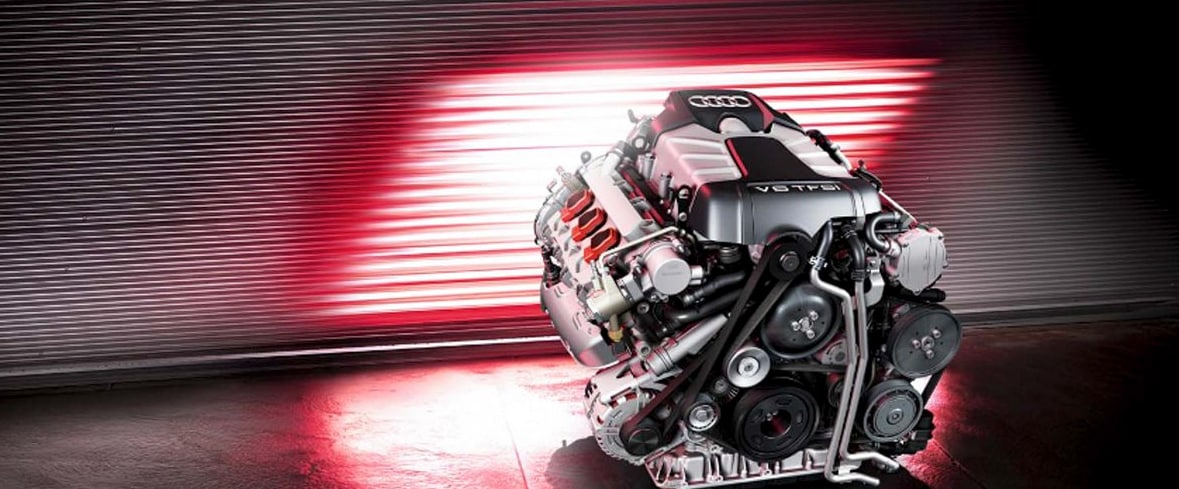 Performance is the reason most drivers choose
Audi vehicles
. These Audi performance engines and additional features will not disappoint. The unique inventory offered at Audi of Hoffman Estates features advanced performance options Hoffman Estates, IL area drivers want. 
Audi TFSI Engines
Audi is the first automaker to create a turbocharged direct injection engine. The result of this produces better thrust, greater fuel economy, and lower emissions. This technology allows the engine to become an extension of the driver with more connection with the road.
Engine Types
2.0L four-cylinder engine that delivers 220HP and 258 lb. ft. of torque
2.5L five-cylinder engine that delivers 367HP and 343 lb. ft. of torque
3.0L six-cylinder engine that delivers 333HP and 325 lb. ft. of torque
4.0L eight-cylinder engine that delivers 450HP and 406 lb. ft. of torque

 
Audi quattro 4-wheel Drive System
For over 35 years, the Audi quattro 4-wheel drive system uses several systems in concert for amazing traction. This system is not designed only for adverse road conditions; quattro provides great grip when the roads are dry just as well as in bad weather. 
The quattro 4-wheel drive system functions under normal conditions by sending power to all four wheels equally. In bad road conditions, the quattro system moves power to those wheels with the most grip to maintain the highest levels of traction. Several individual systems work together to make quattro the well-known system it has become.
Variable torque split. This system sets which wheels get the most traction. 
Torque vectoring. When going around corners or any other turning, this system automatically applies the brakes to the inside wheels while moving more power to the outside wheels.
Sport differential. Using an active rear differential, this available system sends power to the outside rear wheel when turning.
Audi Sport
Through race track testing, Audi performance has become better engineered for the driver. Every part of Audi sport models is gone over, updated, and pushed past its limits to make every moment of the drive an experience you'll never forget.
Audi S
Those who choose an Audi S series vehicle gets the pleasure of great acceleration, handling, and overall performance. Several features make the S Series vehicles stand out from other models for an amazing drive, every time.
Steering. The dynamic steering of S Series models give you amazing responsiveness under any driving conditions.
Engine. S Series models come with turbocharged TSFI engines that provide amazing power, combined with great fuel efficiency.
Exhaust. The S Series-exclusive quad exhaust outlets that bring a sound that gives a hint at the power inside.
Performance. All S Series models come with a Singleframe grille that funnels air down for more aerodynamics and the rear diffuser channels air from underneath the vehicle to reduce lift.

 
Audi RS
Whether you choose a fully-customizable RS5 or the all-new RS7, the Audi racing sport series provides the ultimate in luxury and performance.
Audi RS5. Build your own Audi from a variety of inlay, leather, stitching, and paint choices. Genuine hand-stitched leather, true wood inlay, and various interior features let you create the Audi of your dreams.
Audi RS7. This new RS7 is a true showstopper with true power, performance, and technology across every inch. Voice-control navigation, surround sound, and leather seats are only a few luxurious features on this cutting edge model.
Audi is known for its performance and technology with its engines, systems, and features. Discover all about what Audi can offer your drive through our website or by giving us a call at 
847-843-9900
 to set up your test drive.